About us
Certification
7. Declaration - EU REACH Regulation 2014/Dec/25
More details visiting in each model.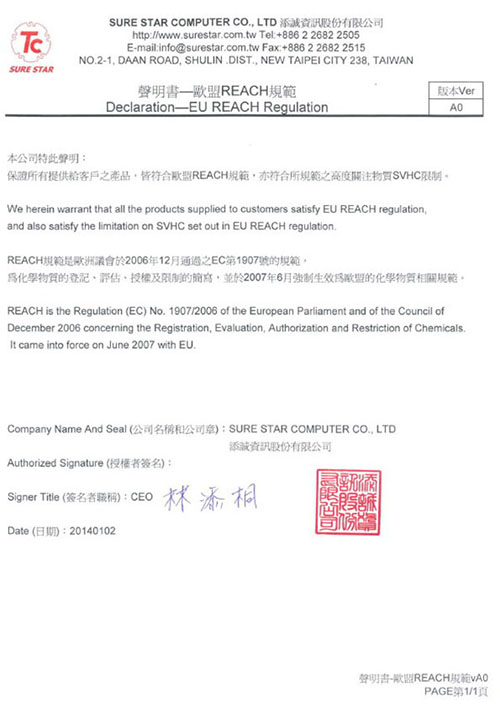 6. Conclusion of RoHS 2.0 CE Conformity 2013/Jun/17
More details visiting in each model.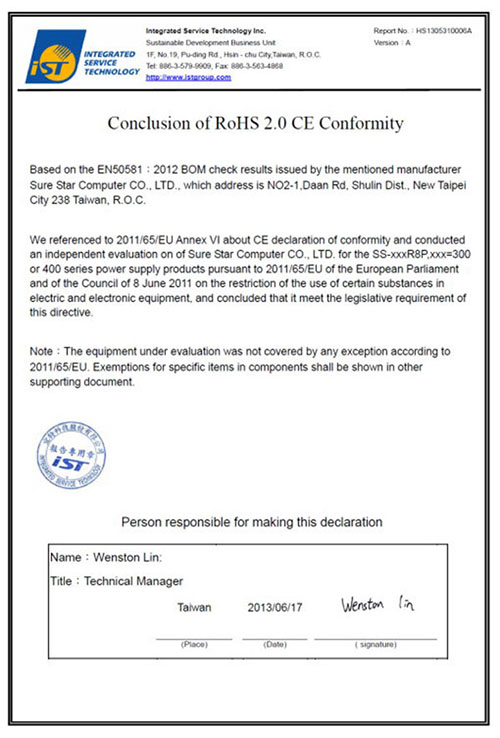 5. Declaration - Metal Conflict-Free 2013/Jan/02
We herein warrants that all the products supplied to customers satisfy the metals Conflict-Free.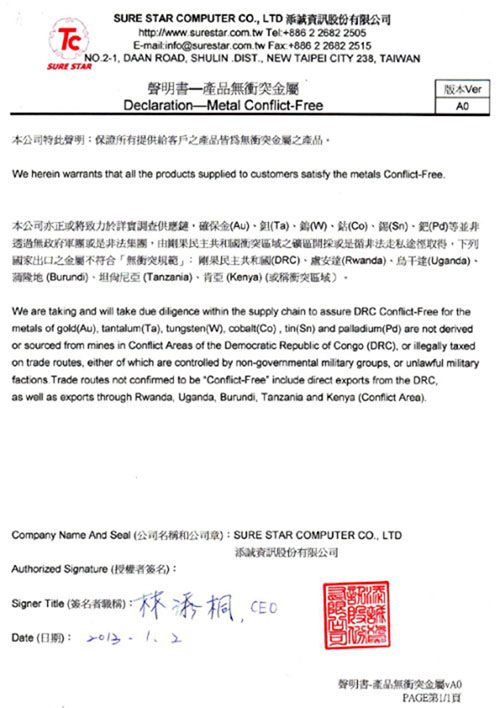 4. 80PLUS Certificate 2011/Oct/02
What is an 80 PLUS certified power supply?
Power supplies are the devices that power computers and servers. They convert AC power from electric utilities into DC power used in most electronics. The 80 PLUS performance specification requires multi-output power supplies in computers and servers to be 80% or greater energy efficient at 20%, 50% and 100% of rated load with a true power factor of 0.9 or greater. This makes an 80 PLUS certified power supply substantially more efficient than typical power supplies.
What is 80 PLUS certified:
80 PLUS Certification

115V Internal Non-Redundant

230V Internal Redundant

% of Rated Load

20%

50%

100%

20%

50%

100%

80 PLUS

80%

80%

80%

N/A

80 PLUS Bronze

82%

85%

82%

81%

85%

81%

80 PLUS Silver

85%

88%

85%

85%

89%

85%

80 PLUS Gold

87%

90%

87%

88%

92%

88%

80 PLUS Platinum

90%

92%

89%

90%

94%

91%
3. REACH - SVHC 2011/Jan/20
Since 2007, REACH Digest has been market leading tool for creating engaging and interative REACH experiences. Adding many more robust functions, REACH Digest 3 bring a whole new dimension to your SVHC management and REACH implemention challenges. With a REACH Digest ID, you will be able to understand your obligations and increase awareness of latest REACH developments through internet - anytime, anywhere.
2. Declaration of Conformity - ROHS
The Directive on the restriction of the use of certain hazardous substances in electrical and electronic equipment 2002/95/EC; commonly referred to as the Restriction of Hazardous Substances Directive or RoHS) was adopted in February 2003 by the European Union. The RoHS directive took effect on 1 July 2006, and is required to be enforced and become law in each member state. This directive restricts the use of six hazardous materials in the manufacture of various types of electronic and electrical equipment. It is closely linked with the Waste Electrical and Electronic Equipment Directive (WEEE) 2002/96/EC which sets collection, recycling and recovery targets for electrical goods and is part of a legislative initiative to solve the problem of huge amounts of toxic e-waste.
1. ISO 9001:2008
ISO 9001: 2008 Quality Management System certification enables you to demonstrate your commitment to service quality and customer satisfaction, as well as continuously improving your quality management systems and integrating the realities of a changing world.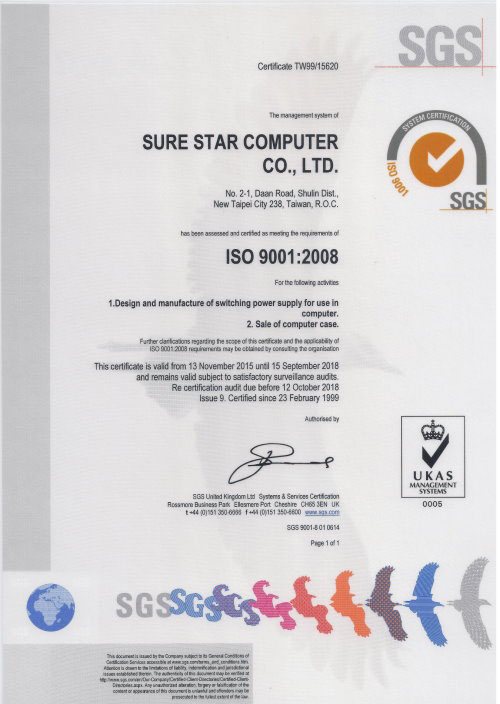 * Continuous improvement of your quality management systems and processes.
* More reliable operations to meet customer requirement.
* Improve performance and bottom line.
* Improvement corporate culture – constant improvement.
* ISO 9001:2008 certificate from SGS demonstrates high levels of service quality.
* A valid ISO 9001: 2008 certificate shows that organization follows the most internationally recognized quality management principles.