R2A-500D1V2 (500W+500W)
R2A-500D1V2 (500W+500W)
R2A-500D1V2 (500W+500W)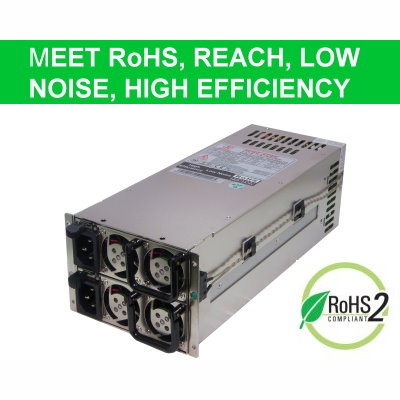 model:R2A-500D1V2
R2A-500D1V2 (500W+500W)
Safety Approval
Meet CE Rohs
Meet REACH
Operation Temp.: 0°C~40°C
High Efficiency
Low Noise
1.Watts:500W
---
2.Input:
★Input voltage: 100 - 240Vac Full Range.
★Frequency: 50 - 60 Hz.
★Input Current: 10A for 115VAC, 5A for 230VAC.
★Inrush Current: 25A for 115VAC, 50A for 230VAC.
★The Minimum efficiency of the power supply is 80% at full load and 1150Vac/60HZ input.
★The minimum power factor at full load shall be 0.98 / 115V 60 Hz and 0.96 / 230V 50 Hz.
---
3.Output:
| | | | | | |
| --- | --- | --- | --- | --- | --- |
| Output Voltage | +5V DC | +12V DC | +3.3V DC | -12V DC | +5VSB |
| Output Current(Max) | 25A | 40A | 25A | 1A | 3.5A |
| Output Current(Min.) | 1A | 1A | 1A | 0A | 0.5A |
| Ripple/Noise Max.(P-P): | 60mv | 120mv | 60mv | 120mv | 50mV |
| Line Regulation: | ±1﹪ | ±1﹪ | ±1﹪ | ±1﹪ | ±1﹪ |
| Load Regulation: | ±5﹪ | ±5﹪ | ±5﹪ | ±5﹪ | ±5﹪ |
The combined total power from 5V & 3.3V shall not exceed 170W.

◎ FEATURES:
★Meet the RoHS
★Meet the WEEE Directive (2002/96/EC)
★Temperature Range: Operating 0℃ ~ 40℃, Storage –20℃ ~ 70℃
★Hold up time: 16 ms Minimum at full load & Normal input voltage.
★OVER POWER PROTECTION: 110~150%
★OVER VOLTAGE PROTECTION
★OVER CURRENT PROTECTION
★SHORT CIRCUIT PROTECTION
★Remote On/Off Control.
★Power Good Signal: On Delay 100ms to 500ms, off delay 1ms.
★Safety: To meet UL, TUV, CB, CE, FCC, BSMI, CCC.
★EMI noise Filter: FCC Class B, CISPR22 Class B
---
4.Dimensions:
L x W x H: 265 x 101 x 84 (mm) / 10.43 x 3.98 x 3.3 (inches)
---
5.DownLoad:
---
6.Connectors:

7.Others Certificates:

8.Packing:
2pcs in One carton
N.W.
G.W.
Carton Size

R2A-500D1V2

8.60 kgs

9.60 kgs

43 x 31 x 23cm

18.96 1bs

21.16 1bs

16.92 x 12.20 x 9.05 inch